3-in-1 Airplane Binocular & Fan Camping Outdoor Games Toy
3 in 1 one unique toy with multiple uses! Pretend to fly with an airplane, explore with binoculars, and cool down with a fan! Let children not miss the view of the world.
Package Dimensions: 7.17 x 6.93 x 4.41 inches
Item Weight: 12 ounces
Manufacturer recommended age: 3 years and up

Look up in the sky! Is it a bird, a plane? Too far to see? No problem! Grab your Flynoculars to get a better look! With 4×magnification, these safe acrylic lenses will protect your eyes and prevent dizziness. Birdwatching, sporting events and camping are a few activities you will want to have these stylish aviator themed Blynoculars with you. Includes binoculars with propeller fan, sticker pack and lanyard.

One Toy, Twice the Fun - Thoughtful fan design, soft fan blades are completely safe to your child's skin. The gentle breeze from the fan helps to cool you down in the hot summer.

Enjoy Your Exploration - It is goodness for watching birds, hiking, camping, sports games, outdoor nature, or watching the sky in your own back yard.

DIY Stickers, Create Your Own Airplane - This toy comes with more than 40 cute stickers, eagles, unicorns, flags, pentagrams, numbers and multiple patterns. Design your own exclusive plane to make it unique and stand out.

Portable, Easy to Carry - These airplane binoculars also comes with a lanyard so you can easily carrying them around your neck.

The Perfect Gift Choice - Our airplane binoculars are the amazing best gift choice for Birthday, Christmas Day, Easter Day, Children's Day, New Years' Day, Thanks Giving Day, Halloween etc. (Requires 2 AAA Batteries, not included)
Product description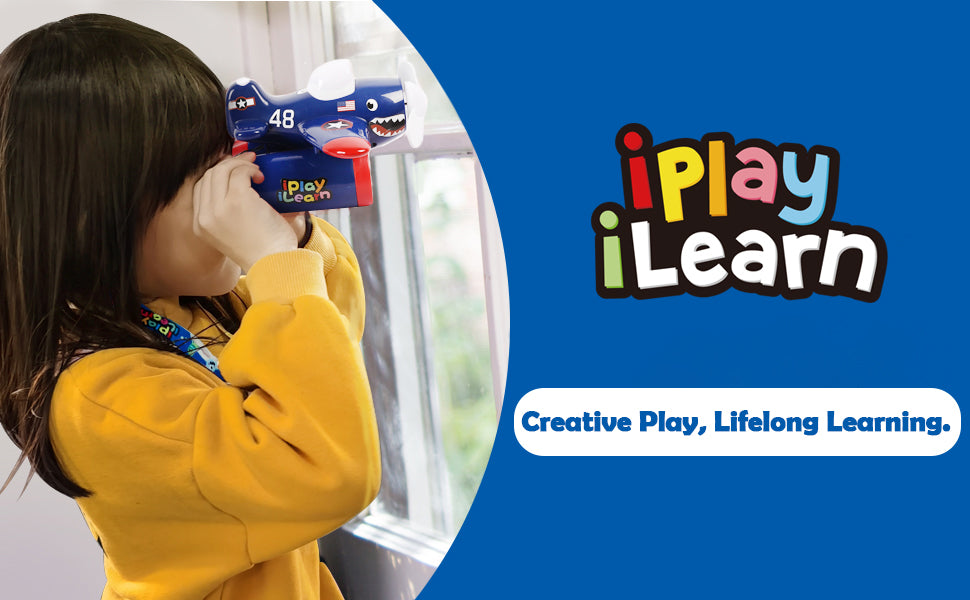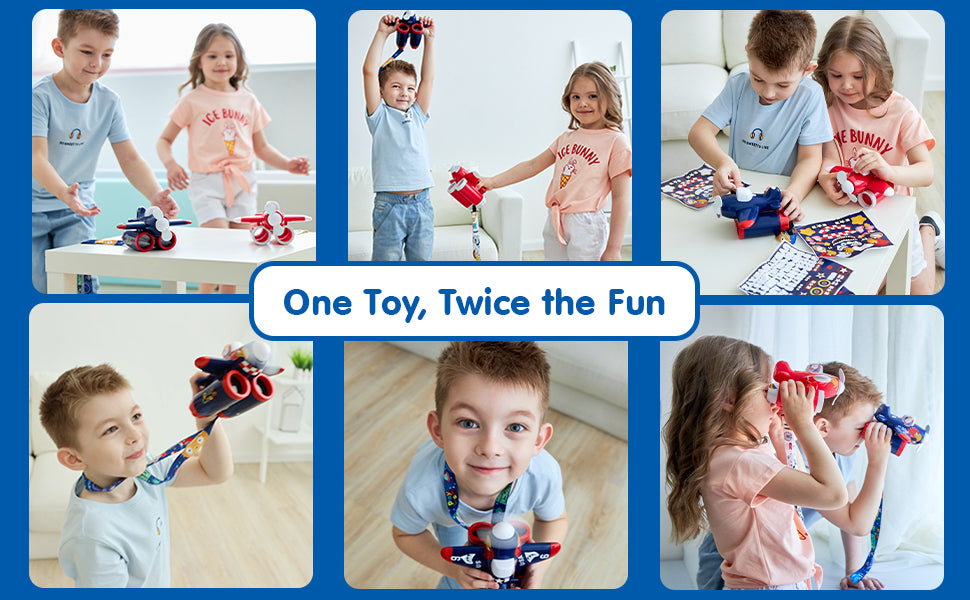 My nephew was hooked on it.
Very heartwarming is that this toy also comes with a lanyard and many cute stickers. My nephew liked it very much. Although his plane was messed up by him, it still didn't affect it as his favorite toy. The fan doesn't look big, but the wind is strong. For a three-year-old boy, this is definitely a thoughtful design, because he will sweat heavily every time. If you are looking for a unique toy, I highly recommend it.
Great Airplane Great Fan!
My kid play with these airplane binoculars every single day. He enjoy switching them around to see what it looks like far away or the other way to see what it looks like close up. These are great and are very well made. My boy traveled with us and even packed down in their toy chest. High quality and well made.
Good Value and Just what I Needed.
Perfect size and quality for toddlers! They have a lanyard around them which he loves because he can wear them around his neck. They are perfect for a beginner bird watcher, and he loves just looking out the window at anything with these binoculars.
Surprisingly good! ! !
It's a super unique design that I've never seen before. My kid has had it hanging around his neck when out in the yard, but still uses it to stare outside from in the house. He loves these binoculars!