2 in 1 Baseball & Tennis Pitching Machine Active Training Toys Set
Give the perfect sports gift . Works for Baseball and Tennis. Set consists of a pitching machine, baseball bat, tennis racket and 6 PP balls. Batteries not included. 
Product Dimensions: 6.49 x 7.87 x 25 inches
Item Weight: 3.4 pounds
Manufacturer recommended age: 5 years and up 

2 in 1 RC Baseball & Tennis Play Set includes: 1 Pitching Machine, 1 Remote-Control Baseball Bat, 1 Tennis Racket and 6 Soft EVA Balls. Balls pitch every 5-7 seconds on automatic. Teaches visual processing, concentration, sports ability and hand-eye coordination. Adjustable angles for floor or raised setups. Can be used inside or outside.

ATTENTION - Please follow the steps on the instructions or steps diagram. Note: Ensure that the ball channel is full pushed into the main unit and firmly attached. Just like the A+ shown.

2-IN-1 Pitching Machine - Works for Baseball and Tennis. Set consists of a pitching machine, baseball bat, tennis racket and 6 PP balls. Batteries not included.

RC and Auto Modes. This upgraded version of the original iPlay, iLearn pitching machine adds the addition of an RC (remote control) baseball bat. Switch device to ON for RC pitching, press red button on the bat to trigger a pitch. Note: Tennis racket is only available in auto mode. Balls pitch every 5S-7S in Auto mode.

Over Load Protection - Self-regulating jam protection built into the device. If unresponsive or jammed, turn off the machine, remove balls and wait 5-10 minutes before turning the machine back on. The device will reset and work properly.

Give the Perfect Sports Gift - Constant repetition is the most important step to becoming an expert! Automated pitching machine makes repetition and batting practice easy.

SAFETY IS #1 - Warning: Children may get injured and/or have accidents when playing sports. Supervision recommended when using this toy. This 2-in-1 pitching machine set is designed with kids' safety in mind and is safe when used correctly.
Product description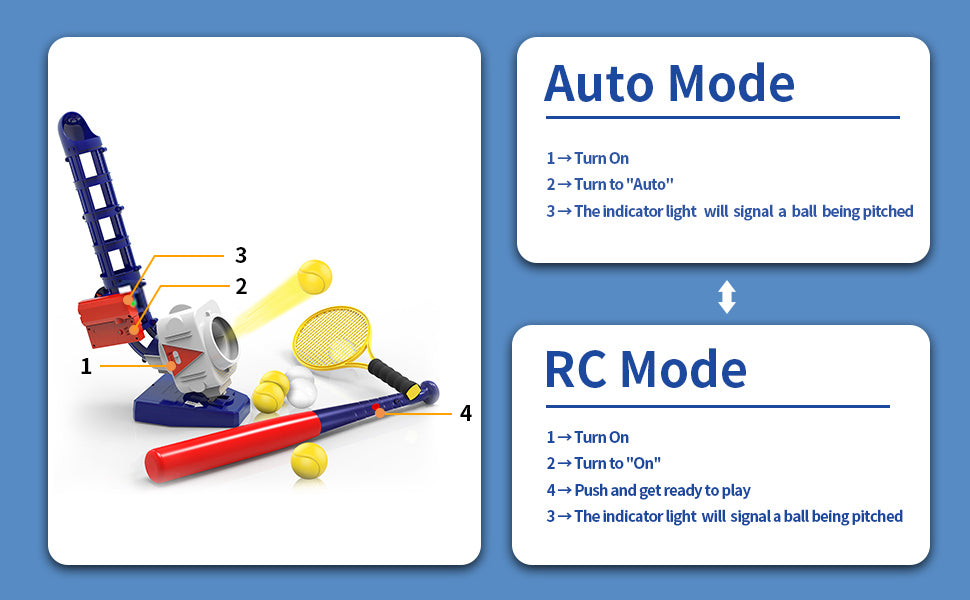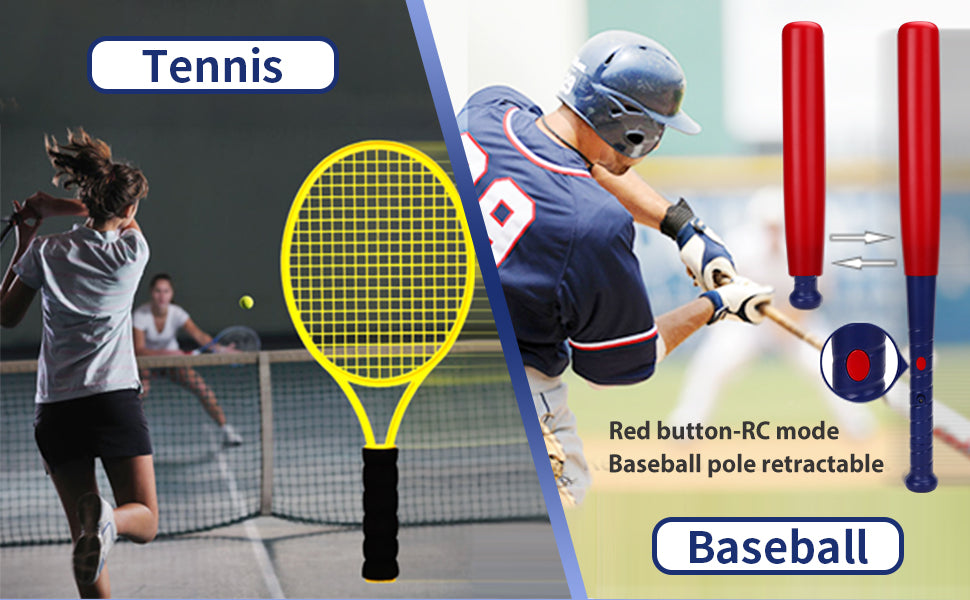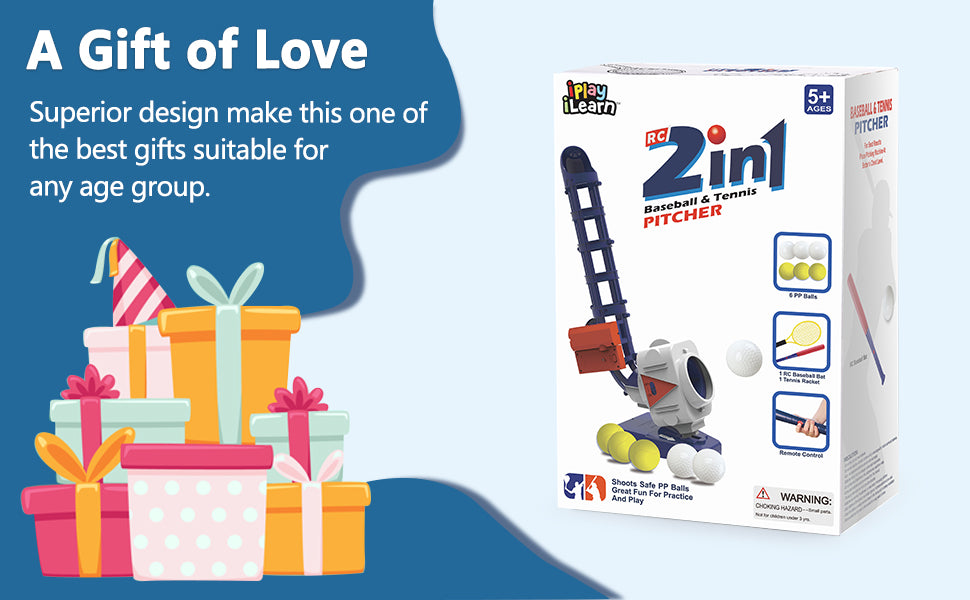 Interesting little creation
My Kid loves it and enjoys the automatic cycle! Its a really good gift! My 4 year old loves it!
Happy!!
I bought it for my 5 year old grandson to practice in the back yard. This pitcher has keep my grandson active and able to practice on his own. It works really well and he plays with it for hours. He loved it. Thxs you!
Come rite in time/On time
I didn't dislike nothing about this it came when they said it would come...wasn't damage my son is goin to love this for Christmas
Absolutely the best!!
I bought this product for my son for his birthday. We love playing with this 2 in 1 pitching machine. Once we started, we didn't want to stop. Fun inside and out. Probably best toy we've purchased in a long time. Love it! Has provided our whole family with boundless happiness during the year,there was a little problem with the product, and the seller had patiently helped me to solve it. It was a perfect shopping experience.
Legit for the future professional.
Nephew loves golf. Nephew now remembers who gave him his favorite birthday gift. Nephew turned 3.