Airplane Pink Binoculars & Fan Nature Explore Toy
Owning your own binoculars is the first step to becoming a little explorer. It is perfect for watching birds, hiking, camping, sports games, outdoor nature, or watching the sky in your own back yard. Let children not miss the view of the world.
Package Dimensions: 7.17 x 6.93 x 4.41 inches
Item Weight: 12 ounces
Manufacturer recommended age: 3 years and up

Look up in the sky! Is it a bird, a plane? Too far to see? No problem! Grab your Flynoculars to get a better look! With 4×magnification, these safe acrylic lenses will protect your eyes and prevent dizziness. Birdwatching, sporting events and camping are a few activities you will want to have these stylish aviator themed Blynoculars with you. Includes binoculars with propeller fan, sticker pack and lanyard.

One Toy, Twice the Fun - Thoughtful fan design, soft fan blades are completely safe to your child's skin. The gentle breeze from the fan helps to cool you down in the hot summer.

Enjoy Your Exploration - It is goodness for watching birds, hiking, camping, sports games, outdoor nature, or watching the sky in your own back yard.

DIY Stickers, Create Your Own Airplane - This toy comes with more than 40 cute stickers, eagles, unicorns, flags, pentagrams, numbers and multiple patterns. Design your own exclusive plane to make it unique and stand out.

Portable, Easy to Carry - These airplane binoculars also comes with a lanyard so you can easily carrying them around your neck.

The Perfect Gift Choice - Our airplane binoculars are the amazing best gift choice for Birthday, Christmas Day, Easter Day, Children's Day, New Years' Day, Thanks Giving Day, Halloween etc. (Requires 2 AAA Batteries, not included)
Product description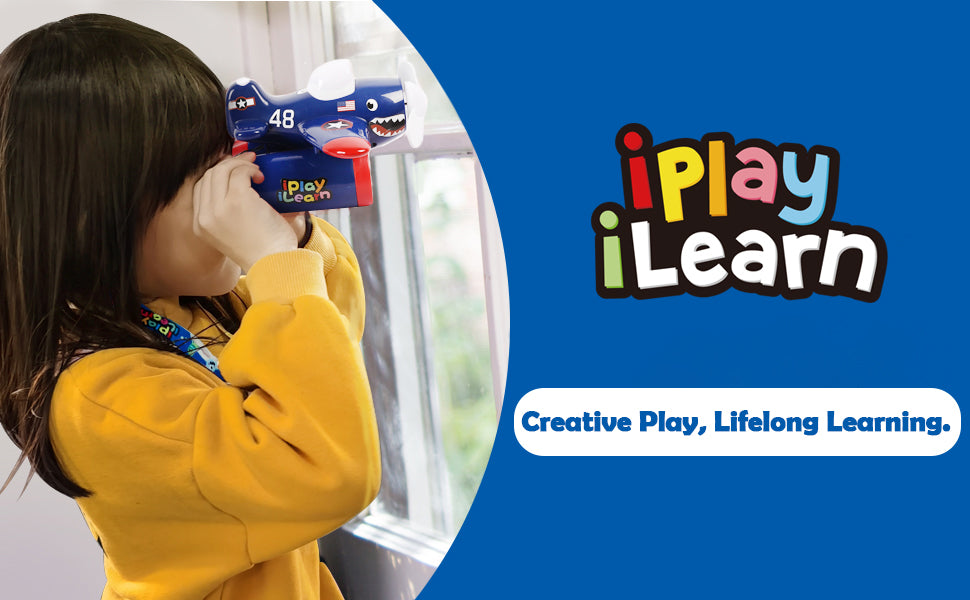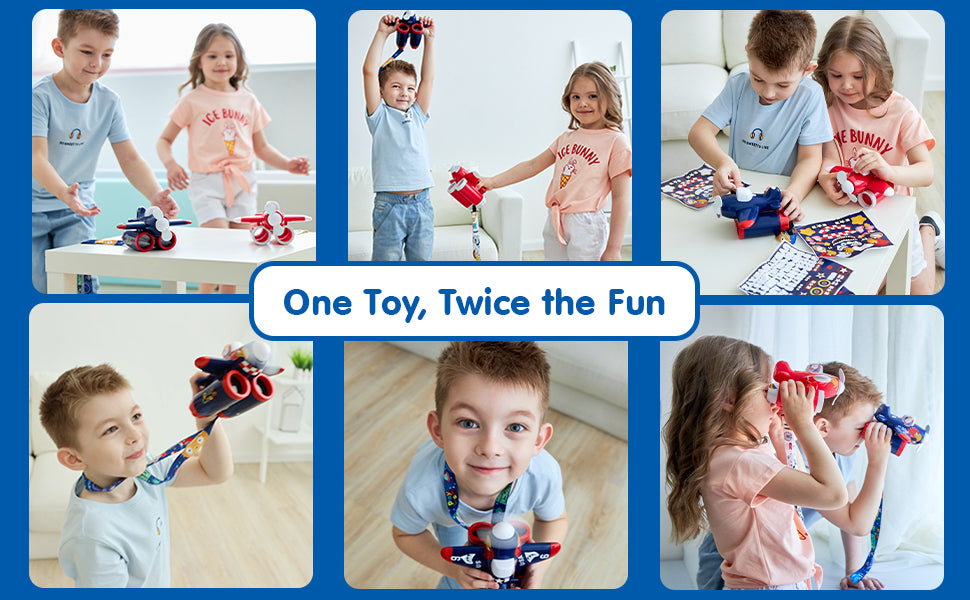 This is a GREAT buy for kids!
My daughter enjoys going to the backyard and start looking around... She said, "mom, I need to see the woodpecker", lol... She has carried it with her everywhere. It has great distance so she can see things very far away. I will be buying one for my son when he gets older.
It's a plane it's a fan it's binoculars it's super toy.
A fan, an airplane, binoculars all in one with the option to customize and wear on a neck strap it is a childs' dream! Here in hot Florida where there is tons of wildlife, my dsughtee is giving this toy a run (or fly) for its money.
This is a GREAT buy for an imaginative 3 year old kid!
My kiddo has carried it with her everywhere. Overall, we're satisfied with the this kids binocular, would buy again for a cool gift too...
Best binoculars for kids!
This set of binoculars were an excellent choice for my 4 year old grandaughter and 3 grandson. They are sturdy and durable and feel good quality. They fit well in the kids hands and are easy to use. The propeller fan on the airplane is such a great design! It can be used to cool you down, but also makes the toy airplane seem more real.